Rainbows
November 2, 2011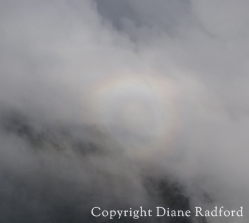 Everybody loves rainbows— they fascinate us, we stop to admire them, and we soak in their color and magnificence. Songs are written about them. Judy Garland reminded us:
Somewhere over the rainbow
Way up high,
There's a land that I heard of
Once in a lullaby.
And way up high is the only place to encounter the phenomenon of the circular rainbow. Mountaineers, pilots and airplane passengers may be lucky enough to see one, the complete multicolored ring on the clouds beneath.
We were passengers in a single engine Cessna flightseeing towards the twin peaks of Mount McKinley when I looked out across the vista of surrounding mountains. Below me, on the blanket of clouds beneath us, shimmered the circular spectrum of colors.
Speaking into the mike attached to my headset, I told the pilot what I was seeing.
"That's called a glory," she replied.
Glory was an apt name for this phenomenon, it was truly a glorious sight. It was fleeting however, for moments later it was gone as the panorama changed, and our angle to the sun shifted.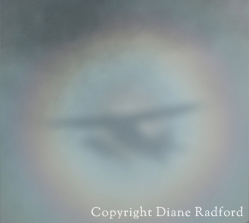 I didn't think I'd see one again. A couple of days later we were flying over the Cook Inlet in a floatplane on our way to view bears at Redoubt Bay. I was admiring a pod of belugas beneath, their bulbous bodies cresting the surface, when once again I saw a circular rainbow on the clouds. This time the shadow of the floatplane was centered within the multihued rings.
"A glory," I cried, "I've seen a glory, and it's around our shadow."
"I call it my guardian angel," said the pilot, who had obviously seen this apparition many times.
There's a science to rainbows, the physics involves the refraction and dispersion of light. The rays of white light are refracted when they enter the raindrop, which acts as a prism. The light then reflects off the back of the raindrop, and is refracted again as it exits the droplet. The amount of refraction depends on the wavelength of light, blue light being refracted at a greater angle than red light. The dispersion of  white light allows us to see its component colors —red, orange, yellow, green, blue, indigo and violet.
All rainbows would appear circular, if the ground did not interfere with the completion of the circle. Circular rainbows can only be seen from high altitude, such as the top of a mountain, from a plane or from the top of a waterfall.
I liken this website to the rainbow: there are two ways to look at it. There is a scientific, medical side (the physics that makes a rainbow), and the creative, artistic side (where we enjoy the beauty of what we see, whether it be paintings or word pictures).  I hope you enjoy all aspects of the website.
Tags: Glory, Judy Garland, Mount Mckinley, rainbows, refraction
---