The Screening Mammography Furor: My Viewpoint as a Breast Surgeon
January 20, 2012
"I am in a reflective mood as I lie here in the sunshine at the end of my life."
So began the article by Dr M. Maureen Roberts, published posthumously, in the British Medical Journal on 4th Nov 1989, in which she considered the efficacy of the mammography screening program in the UK (1). She continued "Breast cancer has caught up with me, after eight good years."
Maureen Roberts was the clinical director of the Edinburgh Breast Screening Project. I remember reading those words with a frisson of shock, for I knew Maureen Roberts.  During my training in breast surgery with Professor Sir Patrick Forrest in Edinburgh, I had seen her regularly.  I was unaware that she had passed away. She had died in June of 1989. Her face looked up at me from the picture on the second page of the article, smiling, standing beside a mammography machine. She was a petite, kind lady. I remembered her gentle way with patients, and I remembered her smile.
In her paper she mused on the usefulness of screening. She was a member of the Forrest group, which resulted in the 1986 Forrest report that recommended breast screening throughout the UK. Her conclusion was that nationwide mammography screening was premature. The irony that she succumbed to the disease to which she had devoted 10 years of her career was not lost on the readers. A flurry of letters to the editor of the BMJ ensued.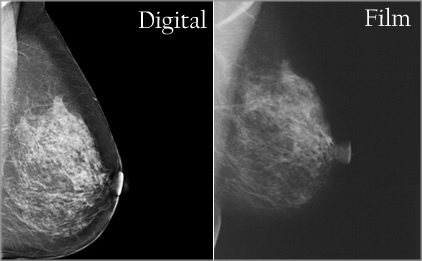 Controlled randomized trials of screening mammography in many countries have shown a significant reduction in mortality from breast cancer in the screened population. Based on these data, the American Cancer Society recommended annual screening mammography from age 40 onwards. Screening became widely used in the US in the 1990s. The American Society of Breast Surgeons, The American Congress of Obstetricians and Gynecologists, the American College of Radiology, and the Society of Breast Imaging have the same opinion on the age at which screening mammography should start.
In 2009 the United States Preventive Services Task Force (USPSTF) published their recommendations for breast screening in the US, decreasing the frequency of screening from age 50 onwards from yearly to every 2-3 years, and excluding the majority of women 40-49 from screening (2). There was outrage.
The Canadian Task Force on Preventive Health (CTFOPH), in November 2011, recommended that screening should not be done for women under 50 (3). The 10 members of the USPTF and the 15 members of the CTFOPF are well-trained, well-respected physicians in their respective fields. Their fields however, are not breast radiology, breast surgery, surgical oncology or medical oncology. The population of women aged 40-49 is about 21 million in the US and 2 and a half million in Canada. Thus over 23 million women in North America would be denied screening mammography based on the recommendations of 25 individuals.
The rebuttal to the CTFOPH recommendations by the American College of Radiology states "while implementation of the CTFOPH guidelines may save money each year on screening costs, the result will be thousands of unnecessary breast cancer deaths."
I would have to agree with Professor Barbara Monsees MD, chair of the American College of Radiology Breast Imaging Commission and Chief, Breast Imaging, Washington University School of Medicine in St. Louis, "Panels without profound expertise in breast cancer screening should not be issuing guidelines. These recommendations are based on flawed analyses and they defy common sense. Women and providers who are looking for guidance are getting bad advice from both Task forces."
In my breast surgery practice 23% of the patients with cancer are less than 50 years of age. My preference would be to treat them when they have early stage disease rather than at a more advanced stage; to treat them when their cancers are found only on imaging and still too small to be palpable versus being larger and palpable. In this age group, breast tissue is generally denser than in older women. The DMIST trial showed digital mammography to be superior to film-screen images for screening women younger than 50.
I believe that, rather than denying screening mammography to women 40-49, we should explore better ways to detect early breast cancer in young women with dense breast tissue, such as ensuring digital mammography is performed rather than film-screen, using hand held ultrasound as an adjunct to mammography, and expanding the use of 3 dimensional automated ultrasound, tomosynthesis and MRI.
My goal for every one my breast cancer patients is that, when they are lying in the sunshine at the end of their life, it would have been a full life, without recurrence. My goal is that they would have seen their children grow up, graduate college, get married, and have children of their own. My goal is that they would not have died prematurely from widespread breast cancer due to lack of a timely screening mammogram.
(1) Breast screening: time to rethink? M Maureen Roberts BMJ 1989; 299:1153-5
(2) Screening for Breast Cancer: US Preventive Services Task Force Recommendation Statement. Ann Intern Med 2009; 151:716-726
(3)  Recommendations on screening for breast cancer in average-risk women aged 40-74 years. The Canadian Task Force on Preventive Care CMAJ 2011; 183
Tags: breast cancer, breast imaging, CTFOPH, Edinburgh Breast Screening Project, Forrest Report, mammography, Maureen Roberts, screening, USPSTF
---