Practice
About Mercy Clinic St. Louis Cancer & Breast Institute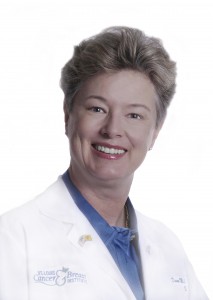 The St. Louis Cancer & Breast Institute was founded in 1999 by like-minded breast cancer specialists who had a common goal, to enhance the quality of care for patients with breast cancer and benign breast diseases. Dr. Diane Radford was one of the two founding breast surgeons in the multi-disciplinary team. The initial site, located at 450 N. New Ballas Road, was the first free-standing independent cancer center in St. Louis, providing one-stop shopping for breast care. Breast imaging, breast surgery consultations, operating suites, medical oncology, infusion, radiation oncology, counseling, and integrative medicine were all under one roof. Another medical oncology office was located at 6435 Chippewa St. St. Louis. As the number of patients to be cared for grew, a new radiation location was added at 1000 Des Peres Rd. Communication between team members, collaboration and compassion helped make the St. Louis Cancer & Breast Institute comprehensive and unique.
In 2008, The Institute was acquired by St. John's Mercy Hospital, and plans were made to relocate the Ballas and Des Peres offices to a new state-of-the-art facility in Clarkson Valley, a site of population growth.
The facility opened at the end of August 2010. The site provides multidisciplinary integrated breast care in a beautiful setting. Artwork and Bible verses adorn the walls, columns of mosaic glass reflect the restful color palette, a grand piano beside a fabric wall plays in the vaulted lobby. The atmosphere is one of peace.
On 1st September 2011, St. John's Mercy became Mercy, and the St. Louis Cancer & Breast Institute became Mercy Clinic Cancer & Breast Institute.
Read more about Dr. Radford at Mercy's website.
---
About|Q & A|CV|Make an Appointment|Practice